For the past couple of months, I have shared my perspectives on the COVID-19 pandemic. Today, I planned to publish a newsletter that returned to a "normal" marketing topic: the advertising implications of Joe Rogan's podcast deal with Spotify. 
But after a week of demonstrations against racial injustice, I thought readers might be interested in seeing the ways that various brands have responded to the current political climate. To be clear, I am a marketing and business executive, with no particular expertise in cultural diversity. As such, I will do my best to "stick to my knitting" and just write about what I know.
—Edward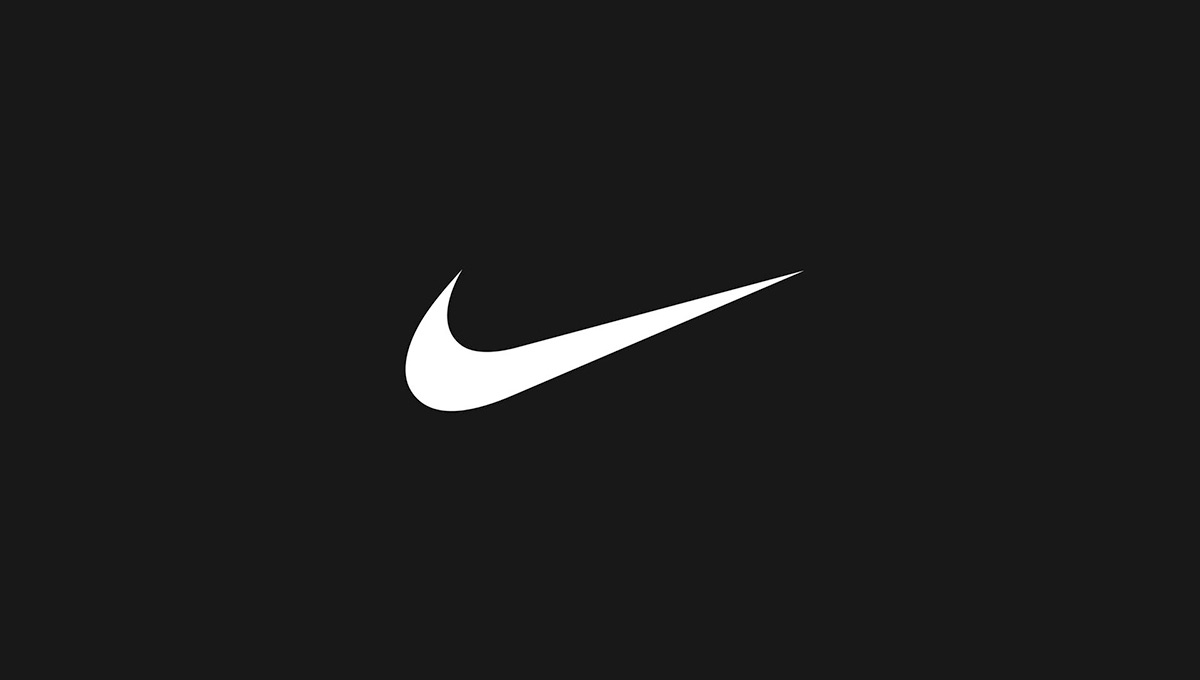 #CorporateMessage 
Over the past few days, many brands have issued public declarations of support for protestors, racial equality, and the #BlackLivesMatter movement. 
Here is a rundown of the messages from some notable companies and statements: 
---
Taking a stand, or the easy way out?
In many cases, companies released their public statements and then faced immediate ridicule, criticism, and scorn. On social media, you can find dozens of comments arguing that corporations are "part of the problem."
As one example, here's how advertising consultant Cindy Gallop responded to Nike's message: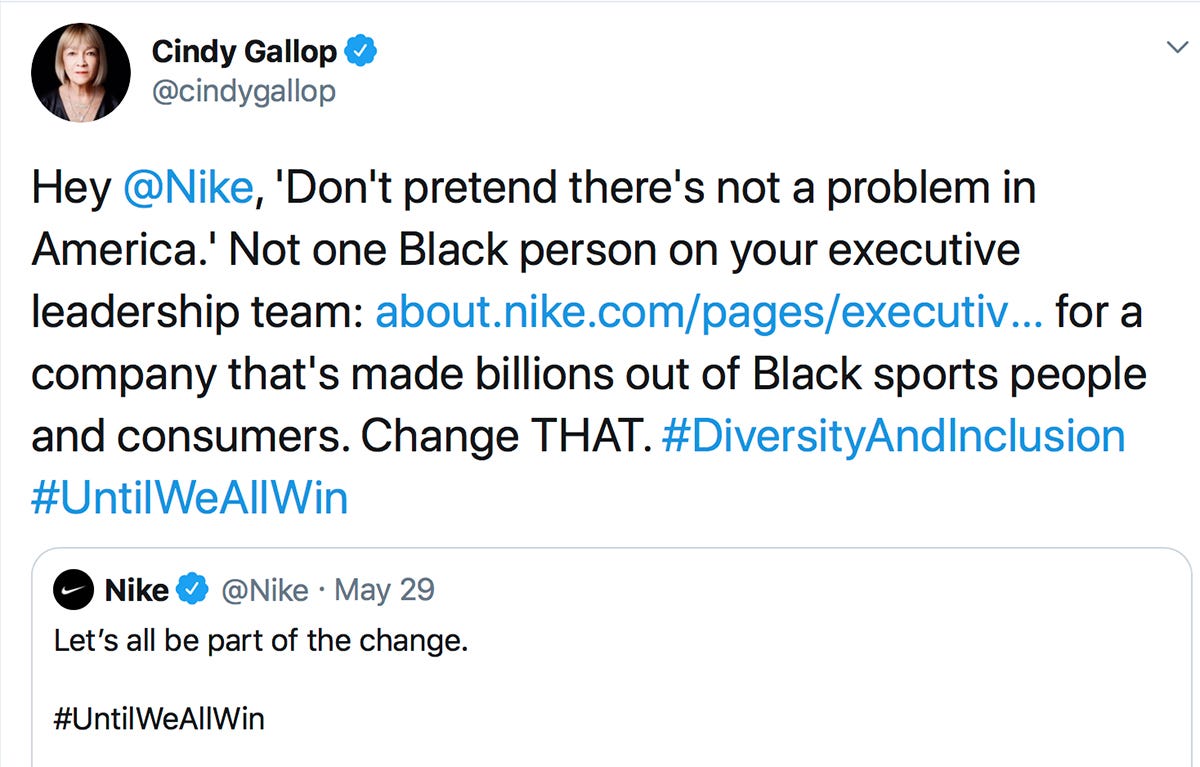 You have to imagine that companies EXPECTED to receive some degree of pushback for their comments. After all, though the vast majority of Americans share the belief that George Floyd's death was a criminal act, the country is NOT united when it comes to opinions about the protests. With such a polarizing situation, companies were bound to receive criticism no matter how they responded. 
As much as we personify brands, we need to remember that they cannot feel anything. When a "brand" takes a political stance, there are individual employees writing press releases and creating visual assets, based on instructions from senior leaders, based on some kind of internal decision-making processes (unless someone goes rogue, which happens occasionally). 
When analyzing corporate communication, many people assume that brands' messages are exclusively intended for customers and potential customers. But companies have many stakeholders. In a newsletter from last July (Marketing to Employees), I outlined my idea that most corporate statements are NOT intended for customers; people don't care one way or the other about the political positions of their preferred sandwich shop. Instead, companies take public stances in order to appease and impress their EMPLOYEES — the people who DO care (a lot) about their employers' support for social issues.
A brief excerpt from that post: 
Employees are increasingly pushing their employers into activism not because they HATE their companies, but because they CARE about them. At professional networking events, the first two questions are usually: 1) "What's your name?" and 2) "Where do you work?"

Clearly, many people base their self-identity on their employment. And if an employer isn't standing up for the ideals you value, it's natural to support change. 
Here's another section from that letter, providing additional insight into the reasons why companies across the US are taking actions like changing their Twitter profiles to support #BlackLivesMatter:
America is living through an era of political polarization. As a few quick examples: Americans are split 48-48 pro-choice/pro-life, 31-30 for decreasing/increasing immigration, and 41-37 for confirming/rejecting Brett Kavanaugh for the Supreme Court. In such a climate, companies might seem foolhardy for taking a stand on any political issue. No matter which side a company chooses, they seem destined to offend half their customers. And yet, companies regularly stake out positions, and — except for outliers like Hobby Lobby or Chick-fil-A — those positions typically end up on the (social) left of the political spectrum. Why? Because — once again — customers don't actually care about companies' values. If Disney highlights a storyline that explores gender inclusivity, Ann Coulter fans will still flock to theatres for The Avengers. The opposite scenario (suppose Disney characters condemn same-sex marriage) WOULD pose a problem for Disney because it risks their relationship with employees — the type of young, educated, and urban workers the company needs to attract and retain.
I believe "marketing to employees" is an important concept that too many pundits overlook when talking about corporate communication. Because (most) consumers don't care about politics, companies focus their messaging on the stakeholders that do — employees (and, to a lesser extent, investors, an idea I explore in my follow-up post). Unless you are looking at corporate responses through this lens, you are missing the big picture. 
---
What can we learn from research?

I respect that many people are experiencing this week's events on a visceral level. If/when you are in a headspace to consider data-driven perspectives on racial inequality, I have a few recommendations to check out:
Finally, take a look at Richard Nixon's "Law and Order" commercial from the 1968 presidential campaign. Expect something similar from Trump later this year.
I will return next week with my thoughts about Joe Rogan and podcast advertising.
In the meantime, keep it simple, and — now more than ever — stay safe,
Edward
If you are enjoying Marketing BS, the best thing you can do is share it with friends and recommend they subscribe. The next best thing you can do is comment on this piece or click the heart (which makes this article more visible for other readers).
---
Edward Nevraumont is a Senior Advisor with Warburg Pincus. The former CMO of General Assembly and A Place for Mom, Edward previously worked at Expedia and McKinsey & Company. For more information, including details about his latest book, check out Marketing BS.